Shovel Knight exploded on the scene a few months back with it's enormous Kickstarter efforts, becoming one of the first game ideas to raise a surprising amount of money (As of writing, the project has over $300K raised), receiving an absolutely enormous boost in fundraising after publicity efforts with the Two Best Friends and Game Grumps of YouTube fame. In this interview, I talk to Sean Velasco of Yacht Club Games (and the voice of Skullmaggeddon of Double Dragon: Neon) about the project's origins, the kickstarter rewards, and other questions. I'd like to thank Mr. Velasco for his time and wish him the best of luck with the project!
1. Where did the idea for Shovel Knight come from? Did you look at the games you wanted to imitate first? Or did the idea of a "Knight who fights with a shovel" come first?
Sean Velasco: We started with the idea of an 8-bit game built around a single mechanic. Most of our favorite games NES games were built around a single mechanic, or a couple: jumping on enemies' heads, pogo stick bouncing, whipping and jumping, jumpin' and shootin', etc. We wanted a down thrust to be our main mechanic, and we built all the ideas around that. Flipping! Stabbing! Digging! We were talking about a shovel. So we went with it, and Shovel Knight: The Shoveling Knight was born!
2. The biggest inspirations seem to be Mega Man and maybe even a little Duck Tales, but are there more inspirations that you guys had?
Sean: Our down thrust definitely has some Zelda II inspiration. We were inspired by the collected great works of the NES, but we have also been citing things like Mother 3's emotionally engaging story, and Dark Souls' intense risk-reward structure and combat. We feel like these games are the gold standard, and so we have their greatness in mind when we are developing Shovel Knight. However, we are making Shovel Knight it's own game, with totally unique story, mechanics, and visuals. Don't expect too many direct influences, or for anyone to say "it's dangerous to go alone, take this!"
3. How did you get the famous Jake Kaufman (also known as "Virt") to do the music for Shovel Knight?
Jake Kaufman (aka Virt)
(Check out his incredible Double Dragon Neon album in the links below)
Sean: I've collaborated with Jake on over half a dozen games; at this point I can't imagine working on a game without a Jake soundtrack! Getting Jake to do something usually involves getting him excited about it; with rapid arm movements and passionate babbling, you can usually fool him for long enough to get some songs.
4. Shovel Knight has gained a lot of press for its success on Kickstarter? How did you decide to use this new crowd funding tool? How did you come up with the rewards, like the "Official Dirt" and "Director for a Day"?
Sean: We spent a lot of time thinking about rewards that would be awesome for backers, and not too expensive to produce or manufacture. This idea of inexpensive but fun rewards led us to think: what if an envelope of dirt was the $100 pledge reward? After the laughter died down we thought it might make a funny addition, so we went for it. As we had hoped, people really loved it, and now we have more than 300 envelopes to send out!
The Director for a Day and our other collaboration-style rewards are about transparency, and bringing other people into the process. We love making games and we want to share what we do with everyone... this is just the first step! Part of the Yacht Club plan is to help inspire and teach future developers.
The Bosses of Shovel Knight (an a fantastic reference to Mega Man)!
5. Can you give us a window into the team's reaction to see that the project had been funded?
Sean: At the end of our crazy Kickstarter, I would say there was electricity in the air, but we also wanted to pass out from exhaustion. It's tremendously gratifying and still sort of surreal that we are now working in an our own office, at our own company, on our own game, for a legion of wonderful fans. So I'd say we still feel how we felt on the day the Kickstarter succeeded: both wired and tired!
6. Shovel Knight had a huge boost in funding after having some play through videos from let's players like the Two Best Friends and the Game Grumps? Did you contact them, or did they contact you? How did you decide which people to send the game to?
Sean: The Two Best Friends did some playthroughs of a couple games we had worked on in the past, so we contacted them in hopes of getting them to look at our new game! Luckily, they were really excited about it and did a hilarious video, as did the Game Grumps. It was wonderful exposure, and we also had several Twitch TV players play the game, like on Destructoid's Mash Tactics. We tried to find people and groups that would be genuinely into the game we were making, and give them the opportunity to test it out. They generally responded really positively!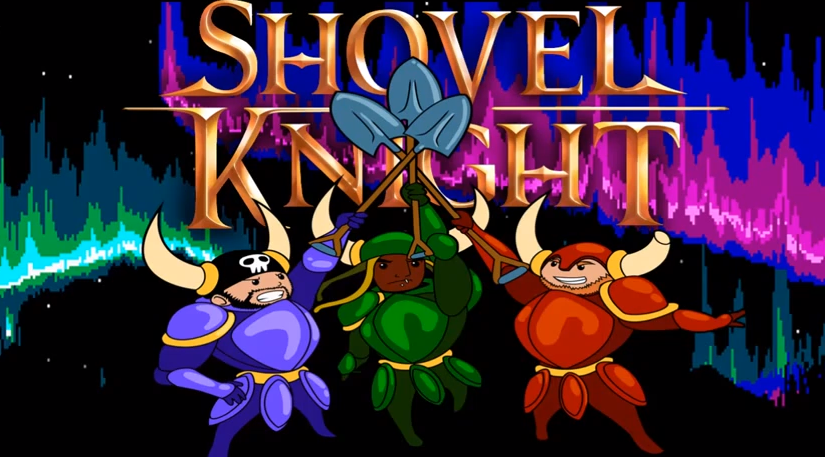 The Best Friends Zaibatsu enjoy Shovel Knight, and so will you!
7. You plan to upload Shovel Knight to the PC, but also the Nintendo 3DS, a decision that stands out to a lot of people? Why did you choose to release it to the 3DS? Can you give us a hint at what stipulations and restrictions Nintendo has for its store?
Sean: We grew up playing NES games, and Shovel Knight is firmly rooted in that era in the 80's. Supporting Nintendo on the Wii U and 3DS was a no-brainer as our heritage systems! On top of that, Nintendo consistently delivers fun and inventive hardware that is always game-centric. We are a gameplay-first company... so we chose Nintendo as a lead platform. That said, we are cross-platform gamers and want to release on all viable platforms!
8. When can we expect to see Shovel Knight released?
Sean: We're hoping to get Shovel Knight out by Holiday 2013. After that, we'll be releasing our stretch goal content with a couple of free updates a few months down the line.
9. What are your plans for after Shovel Knight?
Sean: It really depends on how Shovel Knight does! If it sells well and we can be a thriving studio, the sky's the limit. Shovel Knight 2? Super Shovel Knight? Shovel Knight 64? Something totally original? We don't know... let us finish this one first!
Let the digging adventure begin!
LINKS